Easy Holiday Gifting
Discreet packaging is available, and we can split the shipment to multiple addresses (within Canada). Just leave a note at checkout for Skipper's elves!
Regular price
Sale price
$45.00 USD
Unit price
per
Sale
Sold out
SKIP WASH DAY™

This patent pending design has an adjustable, elastic-free band that's actually comfortable. Made in Canada with high quality materials. Finally, a shower cap that's enjoyable to wear.
Adjustable, elastic-free band.

No more hairline marks or stretched out, floppy cap. You decide the tightness every time.
Technical materials.

Breathable, waterproof shell.

Soft, moisture-wicking and anti-bacterial lining (100% recycled polyester) keeps you feeling fresh and dampens sound.

Plush band lining is soft against skin and helps keep the cap in place without leaving marks.
Easy to put on.

1. Connect the band around your head as tight as you like.

2. Gather any loose hair and tuck it in the opening in the back, then cinch the drawstring to close the cap.

3. Tuck the drawstring in (optional), and skip wash day with confidence. Hang it to dry when you're done.
Machine-washable.

Toss it in the wash when it needs a refresh. Machine wash, gentle cycle. Hang to dry.
Planet-friendly.

Spare the landfill from those pesky plastic caps, and skip wash day to reduce water use.

Planet-friendly materials are used wherever possible, including the lining material that is 100% recycled polyester.

Shipping materials are minimal and recyclable.

Shipping is proudly carbon neutral, too!
Proudly made in Canada.

Made in Canada and made to last with quality craftsmanship and fair labour conditions. Skipper is based in Canada and proud to contribute to our local economy.
Return policy

Try it. If you don't love it, return it. We have a 45-day return policy, which means you have 45 days after receiving your shipping notification to request a return. More info here.
Shipping

Free standard shipping across Canada (no tracking, no rush). Shipping fees are calculated at checkout, depending on the delivery address and urgency. More info here.
View full details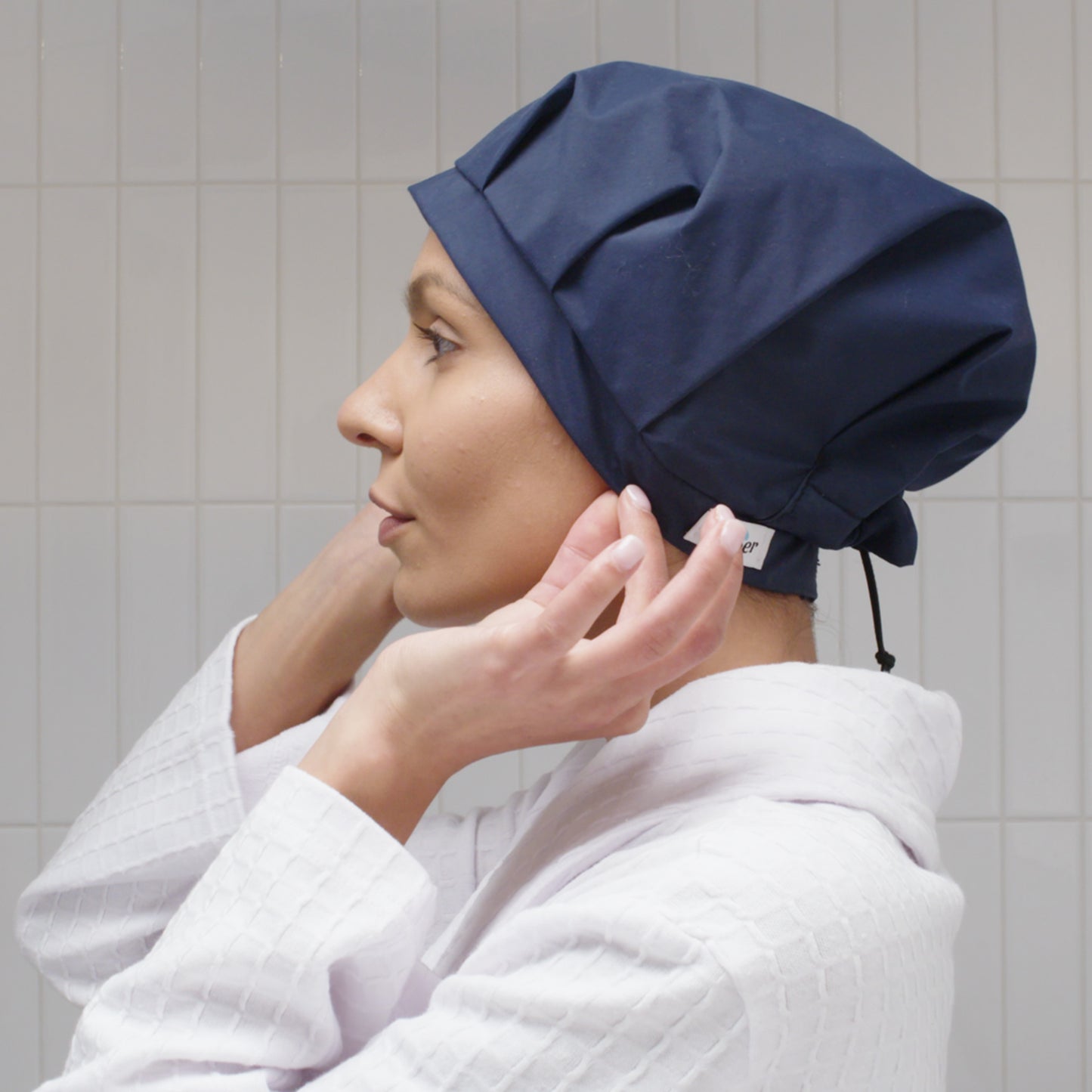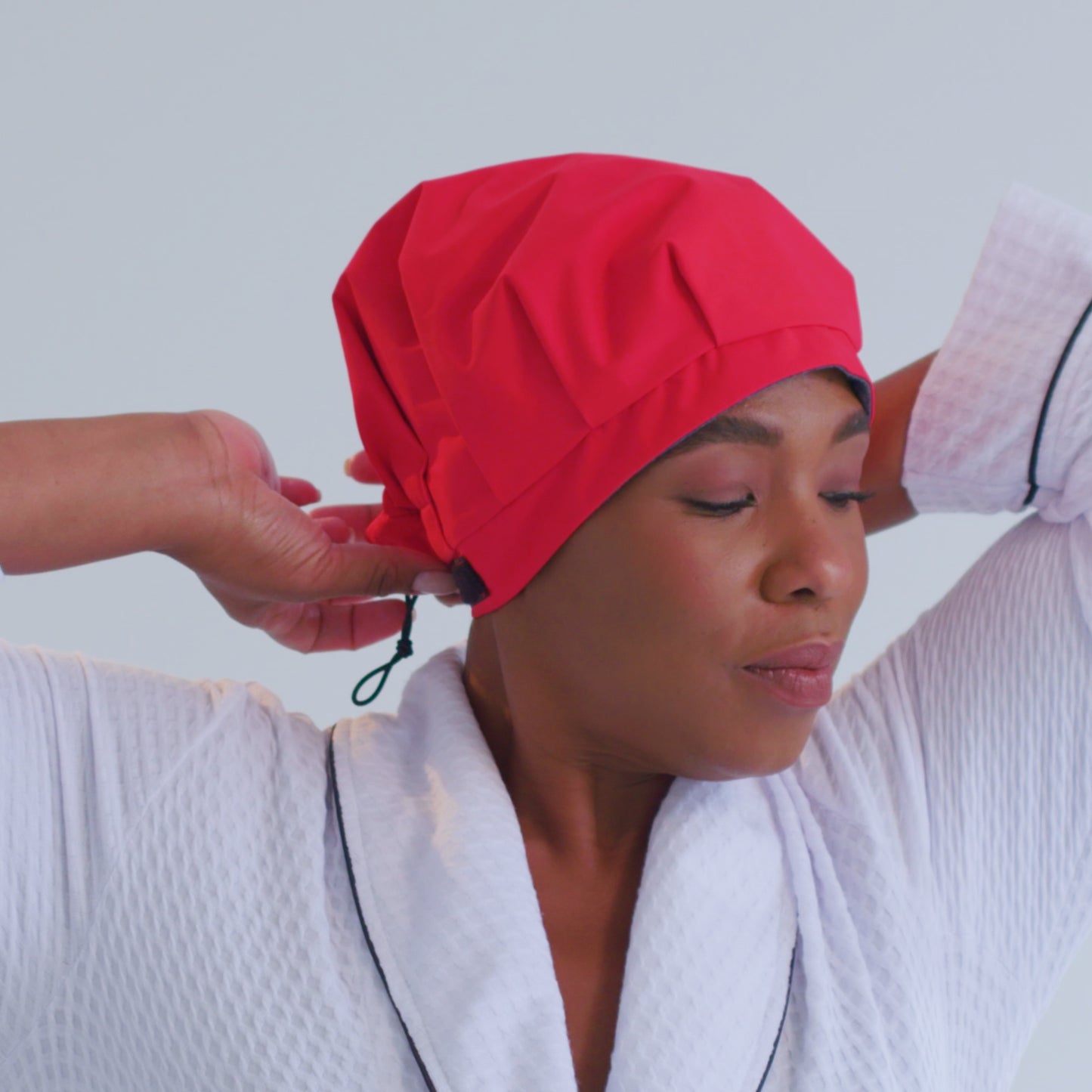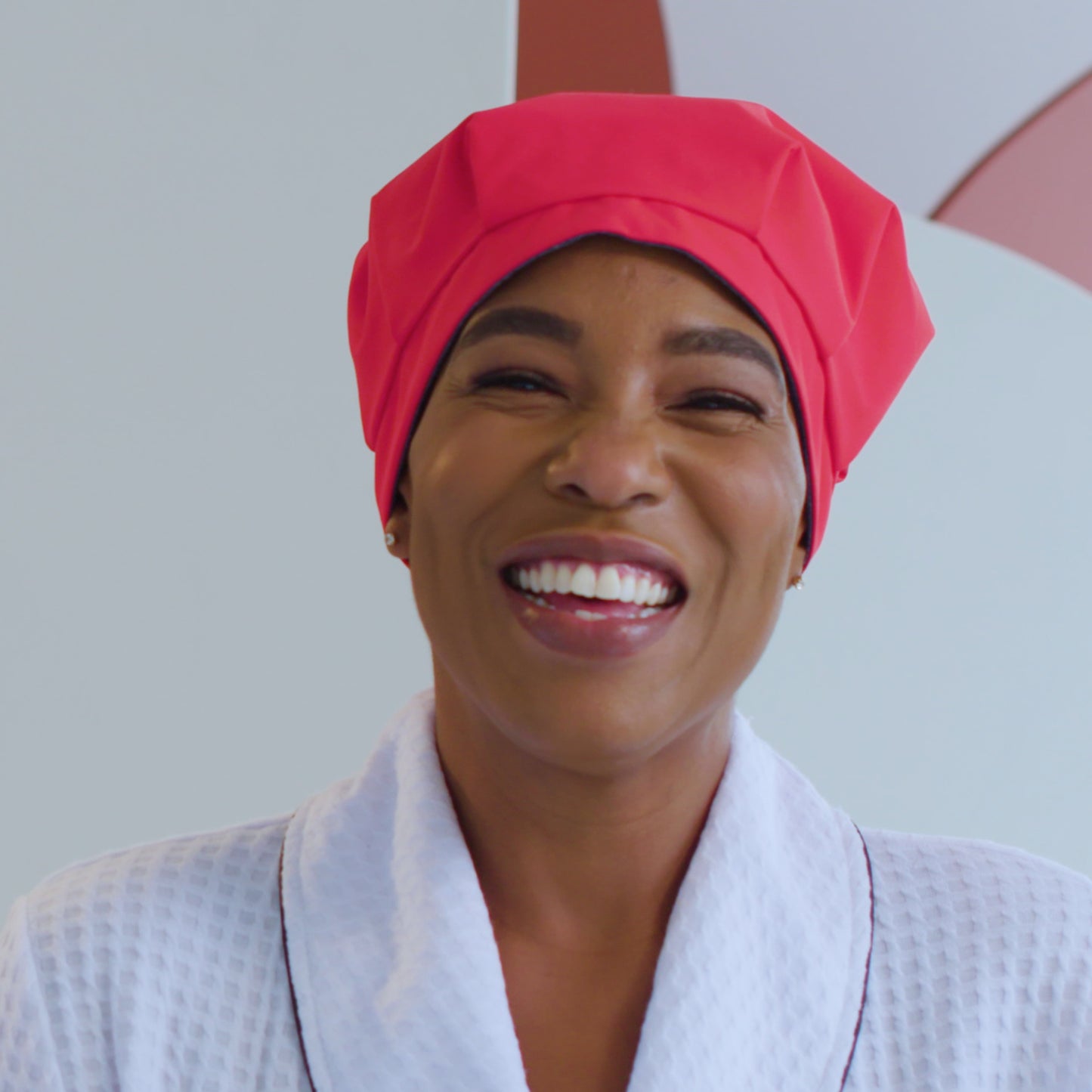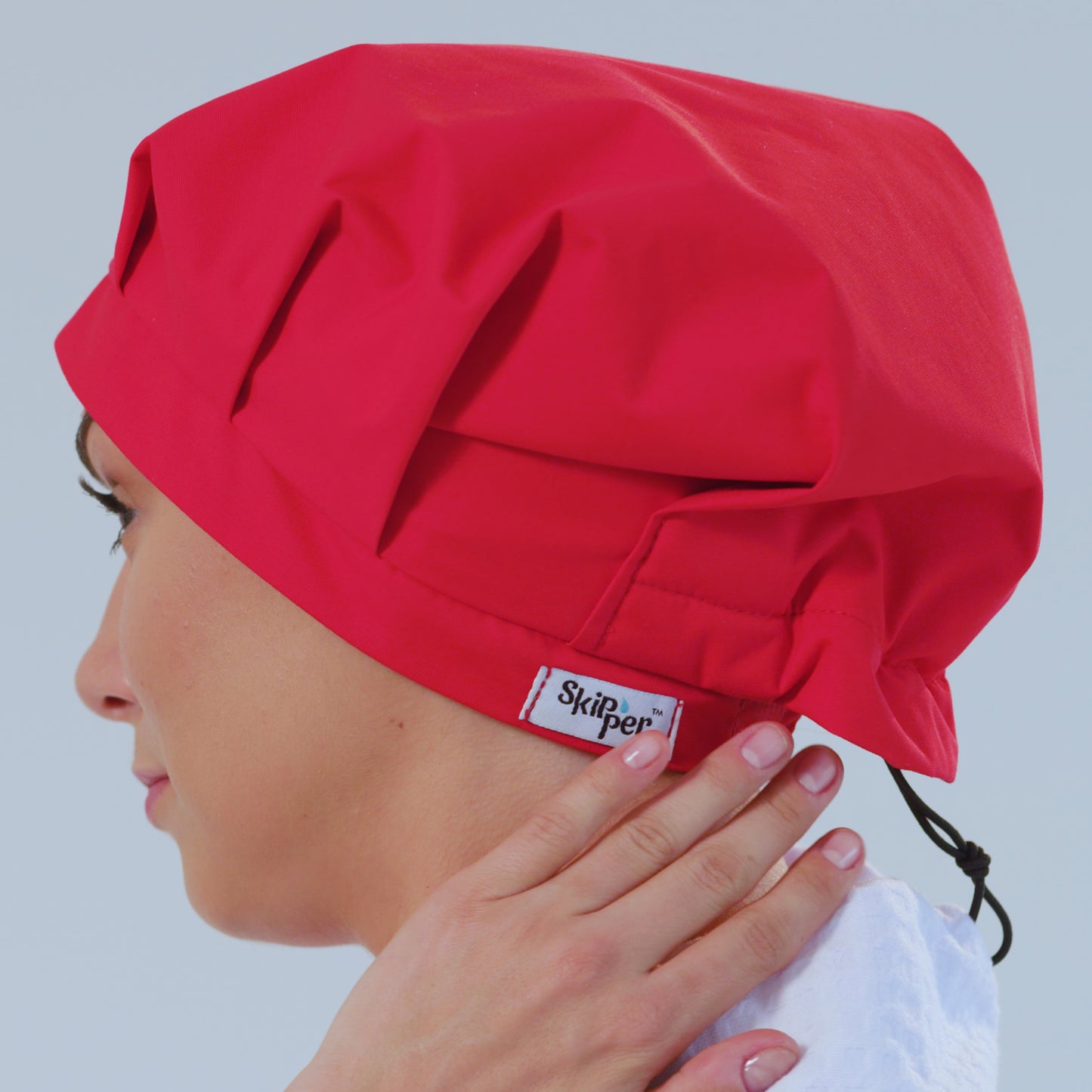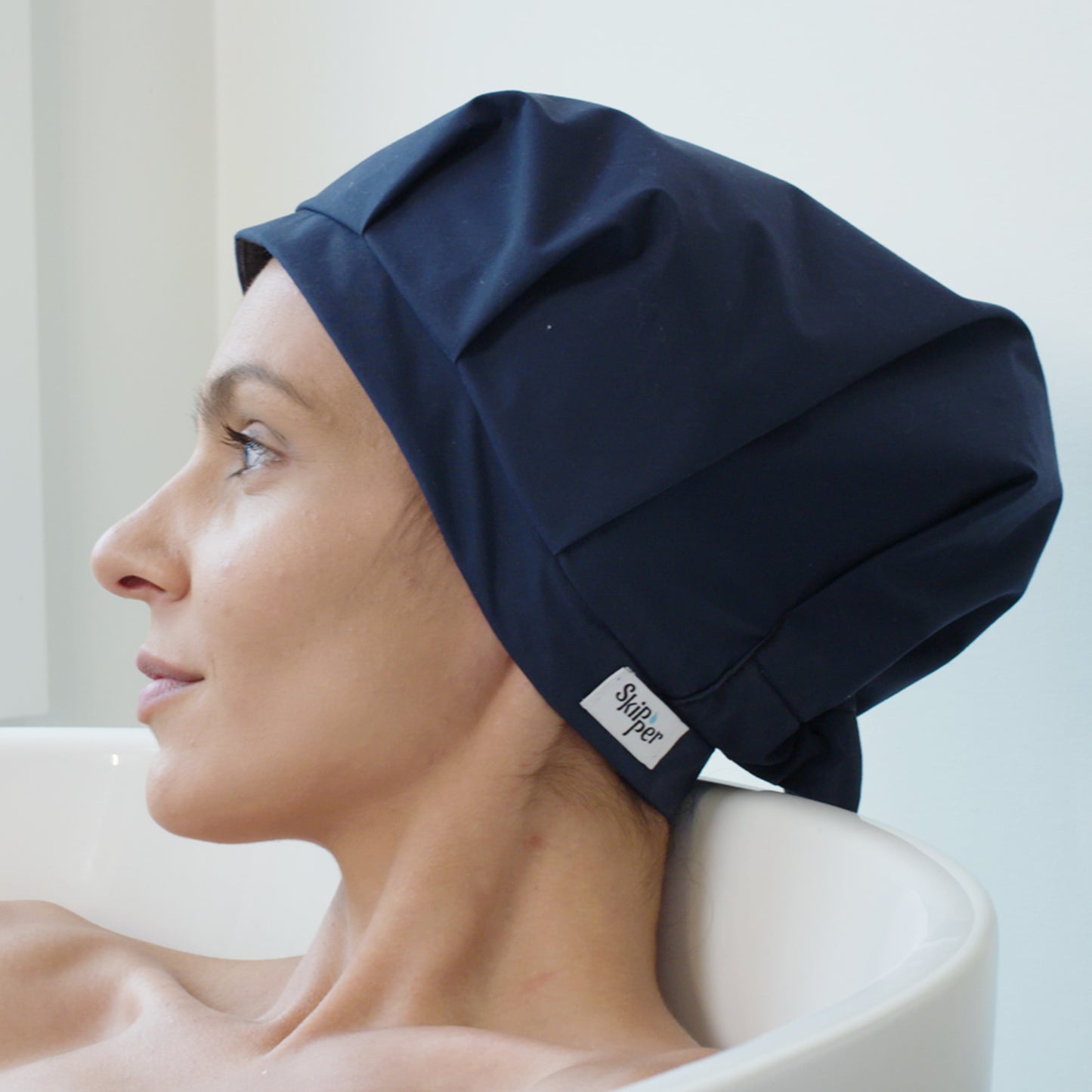 Previous Shower Cap User?:
Yes, regularly
Well made, very comfortable
This is an excellent shower cap, so comfortable I could sleep in it! Keeps water out, my medium length hair is dry, style is maintained and the cap is very easy to take on and off. I like it better than my ssshowercap, especially if I was going to wear it for things other than the shower like sleeping, etc. because of the soft fabric. So happy it is a Canadian company as well! Thanks for the great product! Highly recommended.
Previous Shower Cap User?:
Yes, regularly
Great
A bit pricey I think, but it's made well! Much better then "plastic stuff on my head"!😉
Previous Shower Cap User?:
Sometimes
Amazing Product!
I love the Skipper shower caps. I first purchased the blue cap. It was a game changer for me. I have straight hair and the mist from the shower would cause fly always on no wash days. I've tried other caps, but they still get moisture in them. The Skipper is breathable in the shower and I find my head doesn't sweat with it on. I also used to tie my hair up or slick back on rainy days because… frizz and fly aways. These caps are so cute I wear them out to work on rainy days! I now have a red cap so I'm never without if one is in the laundry! Highly recommend!
Wow, thanks for the glowing review! Glad you like both of your Skippers, even outside the shower.
Previous Shower Cap User?:
Yes, regularly
Love my Skipper shower cap and plan to purchase one for each of my daughters
Thank you for taking the time to leave such a kind review! We hope your daughters like it as much as you do.
Bought as a gift and Daughter is very happy with skipper
We're so happy to hear this. Hopefully your other daughter feels the same about the other one you bought! Thanks for taking the time to leave a review.
Goes on differently—and that's a good thing.
1. Connect the band

You choose how tight it is, every time. Connect the band along the hairline, underneath long hair if it isn't tied up.

2. Cinch the back closed

Tuck in any loose hair through the opening before you tighten the drawstring to close the back pouch.

3. Skip Wash Day® with confidence

Hang to dry between each use. When it needs a refresh, toss it in a gentle wash cycle and hang to dry.
Why should you Skip Wash Day™?
Healthier hair.

Shampooing and heat styling can dry out your hair and scalp. Let your natural oils moisturize your strands, and help your haircolour last longer, too.

Saves time.

Save your hairstyle for tomorrow. If you're not shampooing, drying, and styling, what will you do with all the extra time you'll have?

Reduces water.

Shortening your shower by only 5 minutes can save 40-50L. If you do this every other day, that water savings really adds up!

Less plastic.

One Skipper shower cap replaces countless disposable ones. Treat yourself to better quality, and spare the landfills from even more plastic.