About the Fit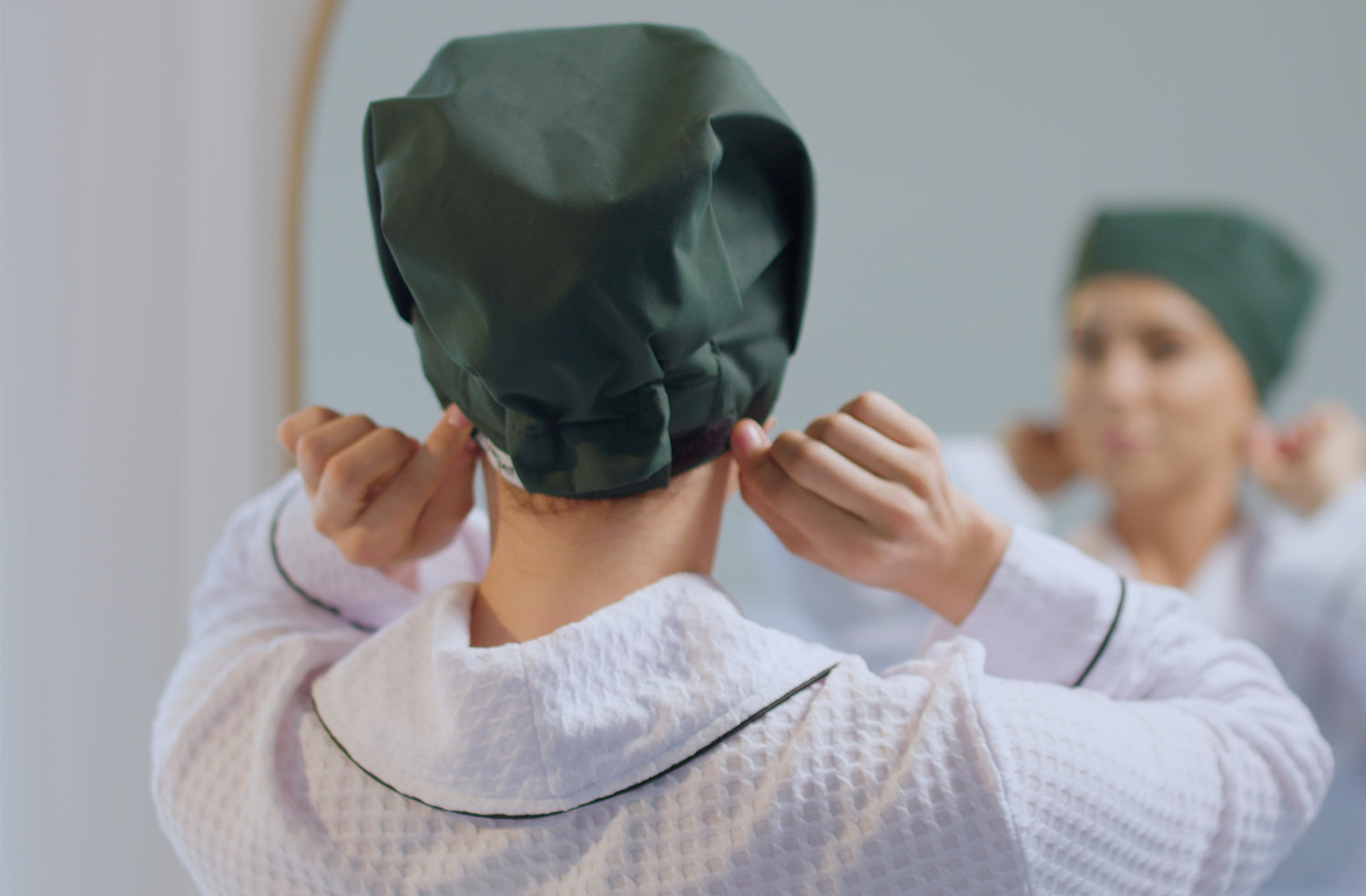 How do I put it on?

Skipper shower caps go on in two steps. It's different than elastic shower caps, but you get used to it very quickly!

1. Connect the band around your head, as tight as you like. Connect it along your hairline, and underneath long hair if it isn't already tied up.

2. Gather any loose hair up and place it through the opening in the back. Cinch the opening in the back closed by tightening the drawstring.
How can I tell if it will fit?

The band adjusts in the back, so it can be tighter or looser to accommodate a range of head sizes. The shell has a lot of room to expand in the back, so long or voluminous hair can be gathered inside.

Band circumference ranges from about 52-58cm.

If it doesn't fit, you have 45 days to initiate a return.

Note: A larger size to accommodate really big hair is in development. Sign up for our newsletter (at the bottom of this page) to be notified about new products.
Will water get in the opening in the back?

When the drawstring at the back is tightened, the opening is closed, but it is not water tight like a swim cap. The opening is in the back, on the bottom, and has a slight fabric overhang (like a hood), so water runs off the sides and doesn't travel upwards into the cap. As long as you aren't turning your head upside down in the shower (who is?), you should be covered.
Shipping & Returns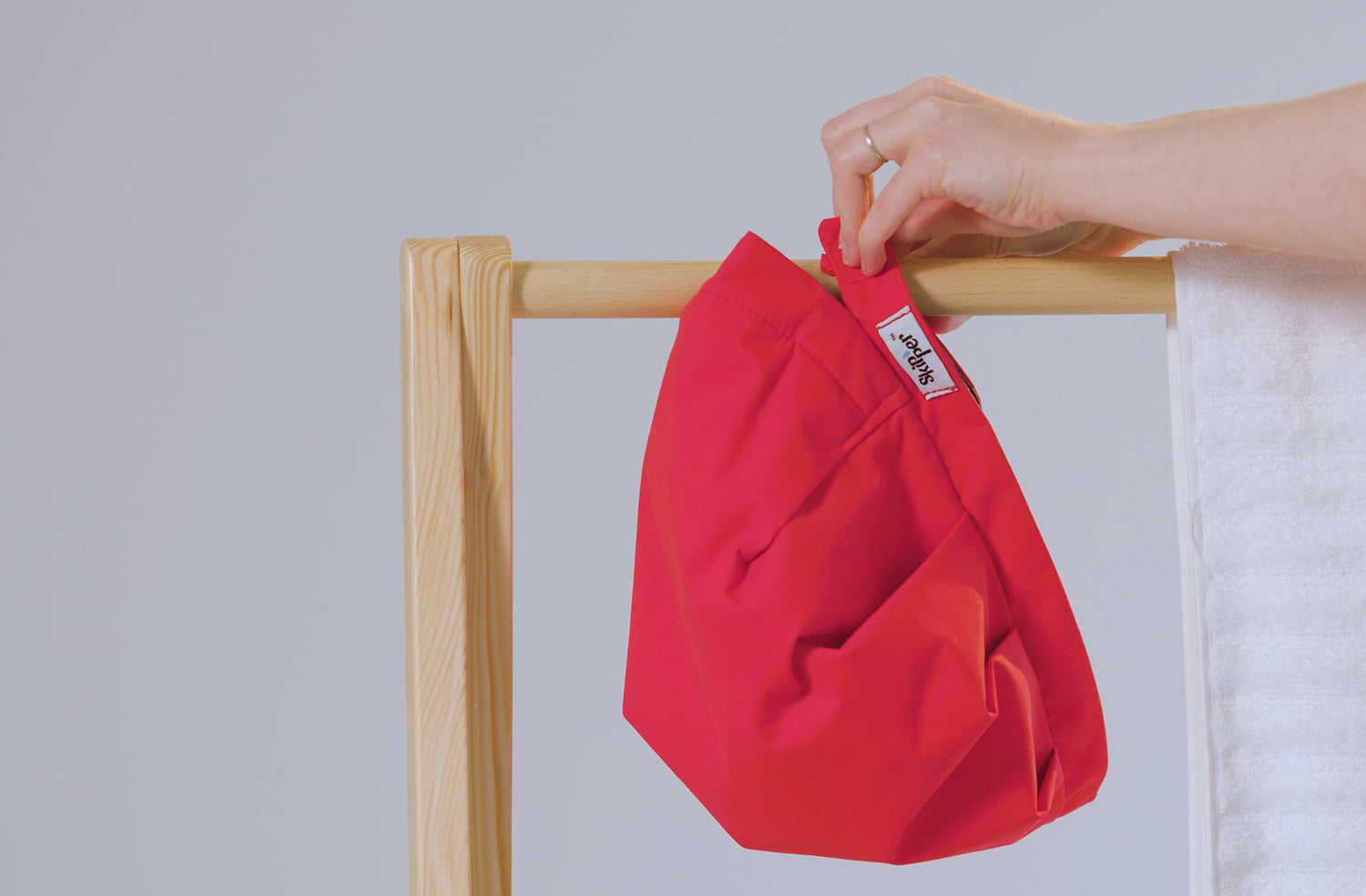 What are my shipping options?

Shipping is calculated at checkout, based on the delivery location. Occasionally, special offers like free shipping will be available in the shipping options at checkout.

Within Canada

> Standard Canada Post (3-14 business days, no tracking) - free to celebrate the launch of Canadian-made Skipper!

> Express Canada Post (3-5 business days, with tracking) - $15.00

United States

Skipper ships to most USA locations. If you're unsure if it will reach you, feel free to email us to check first shipper@skipperhair.com. Cost and delivery times are calculated at checkout and depend on delivery location. Occasionally, free shipping offers are available as a shipping option at checkout.
What if I don't like it? Can I return it?

Give it a try, but if you aren't in love, you can send it back for a refund within 45 days of shipment notification. Contact shipper@skipperhair.com to initiate the return.
About Skipper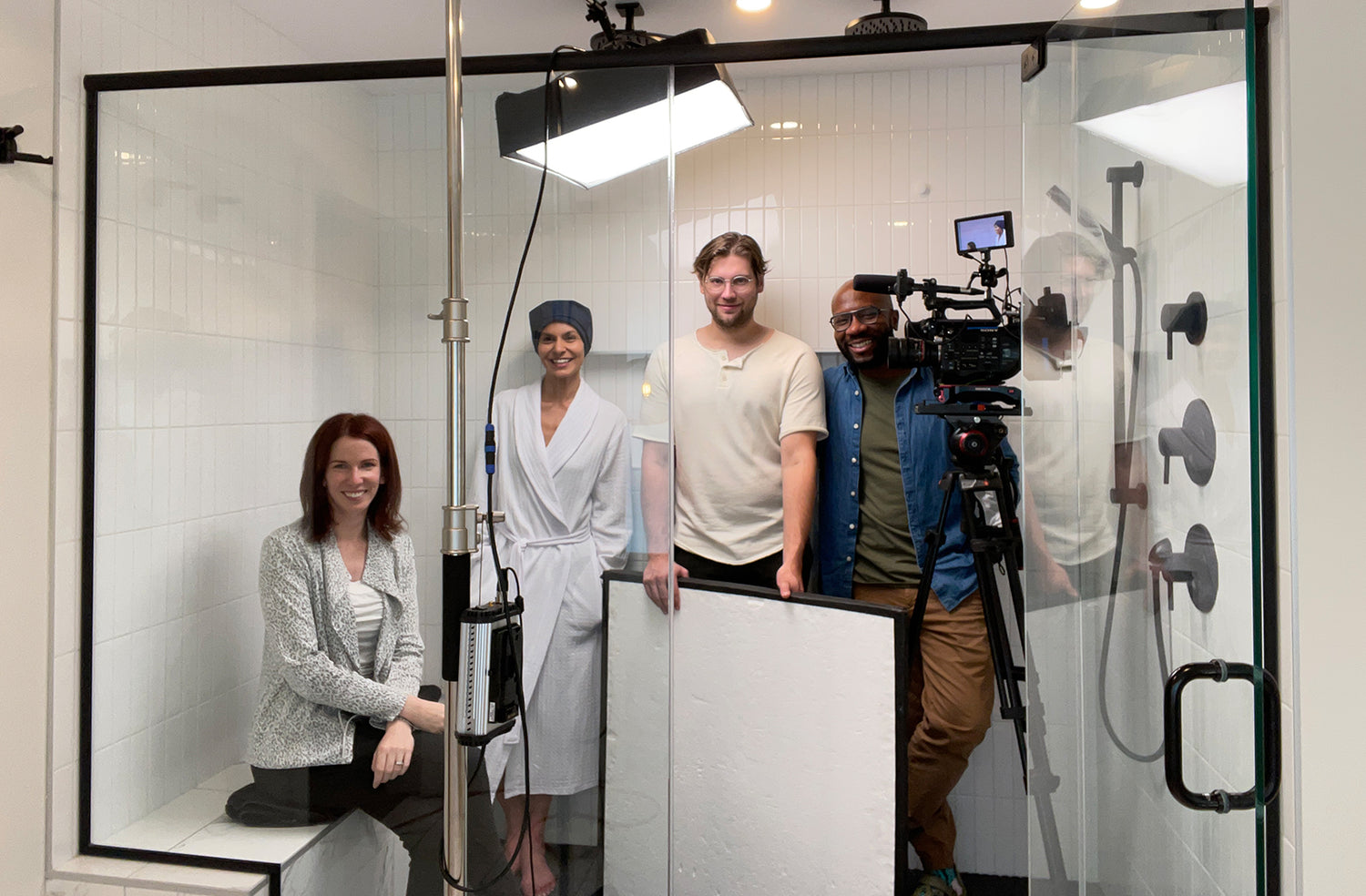 Where are Skipper shower caps made?

Skipper shower caps are proudly designed and manufactured in Canada.
Why does it cost so much more than other shower caps?

This is not your old shower cap. Skipper is completely new, and intentionally designed and produced to be much better than what was previously available. That's how Skipper started—because we couldn't find a good enough one on the market.

This is made with high quality, technical materials (not cheap plastic or vinyl), and it's lovingly made in Canada. You're paying for the elevated materials, smart design, and stateside manufacturing.

Think of it as an investment in better hair days. It helps preserve hair colour and you'll use less shampoo/conditioner and styling products, so there are cost savings elsewhere!
What materials are used?

The shell is a breathable, waterproof material, similar to a rain coat.

The lining is 100% recycled polyester. It's smooth so it won't snag your hair. It wicks away sweat under the cap, and is antibacterial to keep it smelling fresh longer (it is used against unwashed hair, after all).

The band is lined with a plush fabric that keeps it in place without leaving marks. It's also sound dampening if you wear the cap across your ears.
Where did the idea for Skipper come from?

When Skipper's inventor couldn't find a shower cap that stayed in place and was actually comfortable, she set out to find a better way. She noticed that all the shower caps out there had one thing in common that created all the issues: the elastic around the band. After 18 months in development, the elastic-free, patent pending shower caps hit the market.
Caring For Your Shower Cap
How do I wash it?

When it needs a refresh, toss your Skipper shower cap into the wash on a gentle cycle, then hang to dry. Do not iron it or use bleach.

The better you take care of your Skipper, the longer it will last.
My old shower cap smells bad after a while. Will Skipper shower caps smell bad?

To avoid it from getting smelly, allow your Skipper shower cap to dry completely before uses.

The lining is made with a 100% recycled polyester that is also antibacterial, which will help it stay fresh longer.

It's worn against warm, unclean hair, so it will need to be washed occasionally. When it needs a refresh, toss it in the washing machine on a gentle cycle and hang to dry.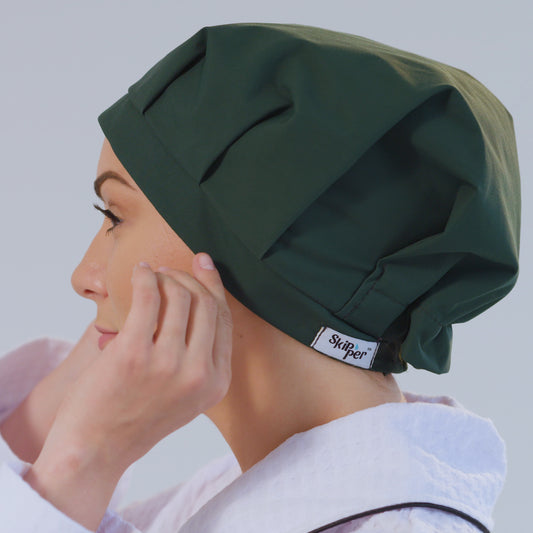 Regular price
$57.00 USD
Sale price
$45.00 USD
Unit price
per